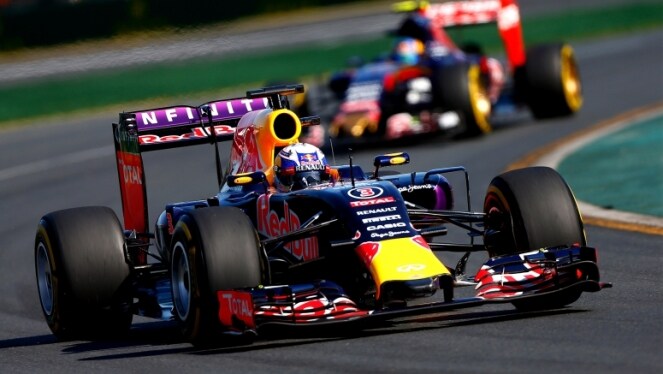 DANIEL RICCIARDO, Finish Position: 10th, Start Position: 18th
"I was pleased with the car during the race. I was trying to push as much as I could towards the end to catch Perez, but the boys behind me were fighting for the podium and I had to respect that. I was really happy with the option tire; the balance of the car worked well. To finish tenth is a good result from where we started today. I'm staying on here for a day's testing this week, and I hope that despite the bad weather forecast we'll be able to get some useful work done before the next round in Silverstone."
DANIIL KVYAT, Finish Position: 12th, Start Position: 15th
"It was a very tough race today. The front wing was damaged on the first lap, and from then on my race was massively compromised. The bodywork damage affected the grip for the entire race, which made the car difficult to drive. I think points were possible today if it hadn't been for the damage, so that's disappointing."
CHRISTIAN HORNER, Team Principal
"From the grid position that Daniel started from today, it was a strong drive from him to score a point. He effectively ran the race in reverse; running the slower tire at the beginning of the race, and then fitting the softer tire at the stop. Dany after a great start, with what was happening ahead of him, unfortunately made contact with the back of Perez. That caused significant damage to the underside of the car, and from there the goal was to make it to the end of the race."
Date Posted: June 25, 2015