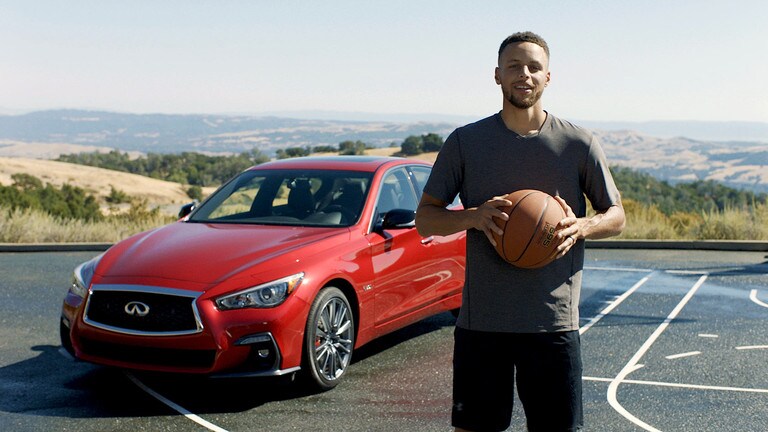 INFINITI Teams up With NBA Superstar Stephen Curry

Considered as one of the greatest shooters in basketball history, Stephen Curry and Infiniti announced a global partnership. Curry's outstanding achievements and personal ambition to be at the top of his profession embodies the spirit of Infiniti's new brand positioning "Empower the Drive." Stephen Curry will be featured in the upcoming global product and brand marketing communications for Infiniti.
"Stephen Curry's drive to continue to set new benchmarks both on and off the court is an ideal parallel to the attributes of the INFINITI brand. Just like INFINITI, he never stops pushing himself.  We see the same dedication every day from our team who works tirelessly to exceed the expectations of our customers around the world. This partnership celebrates a shared drive to continue to change the game," said Roland Krueger, Chairman and Global President, INFINITI Motor Company.
"INFINITI is a brand that I've known and admired because of its strong heritage of performance, design and groundbreaking technologies. I'm drawn to their brand values and passion for their craft and thrilled to be working with INFINITI to help tell stories of people who are driven to do more to realize their potential," said Curry about this new partnership.
Infiniti Head of Global Marketing, Melissa Bell, added: "We are very excited to partner with Steph. We both share a common mindset, passion and dedication, and I look forward to working with Steph to have him be part of the INFINITI family."
Stephen Curry has achieved many accolades during his career so far which includes two NBA championships with the Golden State Warriors. He is also a two-time NBA Most Valuable Player, and a four-time NBA All-Star. Curry was also the leading NBA scorer in the 2015-2016 season. In 2016, Curry was named the Associated Press Male Athlete of the Year.
The first campaign Curry will be helping with is the launch of the new Q50 sports sedan this summer.
Content courtesy: Infiniti Newsroom